Ministry of Education, Culture, Sports, Science and Technology (MEXT) Program for Leading Graduate School at Chiba University
Nurture of Creative Research Leaders in Immune System Regulation and Innovative Therapeutics
Takeshi Tokuhisa: President, Chiba University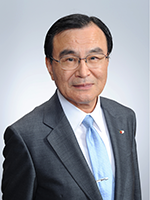 Chiba University holds as a principle goal to contribute to societal development by fostering excellence in educational and research activities. Our university charter challenges us to "Always Aim Higher" and so it is in this spirit that we endeavor to train individuals who work faithfully and embrace a broad perspective. To realize this, the internationalization of our educational and research activities is a top priority.
In 2012, the "Project for Promotion of Global Human Resource Development" established Chiba University as a "hub school" of international exchanges among South East Asian countries and China. In 2014, the "Top Global University Project" initiated educational and research exchanges on a global scale. In line with these projects, Chiba University enthusiastically advances worldwide research collaboration to generate scientific and medical discoveries which benefit humankind.
On the Inohana Campus, where medical-related departments are concentrated, we cultivate many world-leading medical personnel and develop various diagnostic and therapeutic techniques. We train young researchers to engage in cutting-edge areas of treatment and research in the fields of oncology and immunology. Under various Graduate School Educational Reform Programs, such as the 21st Century COE Program (begun in 2003) and the Global COE Program (begun in 2008), we laid a strong research education foundation with international networking concentrating on developing research into new treatment methods as well as key immune system-related research. In addition, the program fostered therapeutics researchers to play active roles in international settings.
Researchers have clarified etiology to develop therapies or drugs to eliminate causes of diseases. However, advancement of gene analysis technology reveals that some intractable diseases have various etiologies. The implication is that traditional approaches to develop treatment are ineffective for intractable diseases. As such, the development of novel and comprehensive treatments are eagerly anticipated. This requires confirmation of safety in humans and comparison with existing treatments. By overcoming these challenges, we can create clinically usable treatments. At Chiba University, "Therapeutics" is the academic field in which we attempt to develop novel treatments or drugs.
Our program for Leading Graduate Schools known as "Nurture of Creative Research Leaders in Immune System Regulation and Innovative Therapeutics" aims to cultivate creative therapeutics researchers who become world-leaders in utilizing immunology as biophylactic function for the development of fresh therapies. While promoting "therapeutics" as a tool to develop innovative therapies specifically of intractable immune related diseases with high societal demand, we hope to mobilize top-tier national and international academics. By doing so, we believe we can foster leaders that possess 1) a high degree of internationality; 2) the ability to promote research and development practically; 3) comprehensive knowledge, and 4) critical thinking.
At Chiba University, we believe that our efforts in creating a new academic field "Therapeutics" and nurturing leaders in the field can serve as a model for others. We will commit intensive support for the program by developing a cutting-edge educational and research environment and by a strategic allocation of the resources. We hope that future leaders from our program will play active roles in global society by contributing to the improvement of human health and medicine.
We deeply appreciate your continued support and contributions to our program.
"Innovative Therapeutics of Immune System Regulation"
Toshinori Nakayama: Program Leader

Every time I see a lounge flooded with outpatients waiting to be treated at Chiba University Hospital, I am reminded that a multitude of people suffer from illnesses. In fact, approximately 2,000~3,000 outpatients visit Chiba University Hospital to see a doctor every day and more than 700 hospitalized patients receive medical treatment at this facility. There are many kinds of diseases and disorders that can be roughly categorized into three groups: (1) those that heal naturally without any medical treatment, (2) those that can be cured or brought into remission with adequate medical treatment and (3) those that cannot be cured with existing medical treatments (e.g. terminal diseases or disease conditions without any hope for a functional recovery). Thanks to recent progress in medical treatments, many diseases are moving from category (3) to category (2). More specifically, new medical treatments and therapeutic drugs have been developed and, as a result, more diseases can be cured or maintained in remission for longer periods of time, and lost functions can be retrieved to a level allowing patients to enjoy a good quality of life. Although this is in sharp contrast with the state of medical treatment in the 1970's and 1980's when I received my education at medical school, it is also true that there remain innumerable refractory diseases for which only symptomatic treatment is effective.
"Immunity" is sometimes called the "immune system," which consists of many cells and molecules in the blood and is generally understood to comprise the body's defensive function against infectious diseases caused by pathogenic microorganisms. If you think about the causes of refractory diseases, you will notice that many are related to the "immune system." Take allergic diseases as a typical example. While one-third of Japanese people are affected by allergic diseases, most are treated symptomatically, and effective and curative treatments are still needed. Definitive therapy for treating autoimmune diseases has not yet been developed.  Moreover, an immune system weakened by aging increases the risk of cancer. With the progression of the aging Japanese society, one in three people will die from cancer, and developing less invasive therapies is urgently needed to maintain a good quality of life for patients. Likewise, arteriosclerotic cardiovascular diseases, which often affect elderly people, have come to be regarded as chronic inflammatory diseases related to immunity. These socially important diseases can be considered to result from "immune system dysregulation." Immunology and other basic sciences have made remarkable achievements in recent years. Nevertheless, these achievements have not led to the development of effective therapies. In contrast to "diagnostics," which has made considerable progress in developing equipment and examination methods in clinical medicine by making use of cutting-edge engineering innovation, the study of "therapeutics" has not systematically progressed beyond the boundary of basic and clinical medicine. Another reason is that there is no academic environment to organizationally foster and support people who advance "therapeutics."
With this leading program at Chiba University, "Innovative Therapeutics" encompasses a field of study that seeks to clarify the theoretical background of various medical treatments and, based on these findings, systematically develop new drugs and treatments. This program aims to foster leaders who will promote "innovative therapeutics," including the development of therapeutic drugs that regulate the "immune system." In particular, based on the academic strengths of Chiba University in these research fields, we will focus on refractory immune-related diseases with a high social demand (i.e. allergies, autoimmune diseases, cancer, cardiovascular diseases, etc.) in order to develop definitive therapies.
If you would like to pioneer a new field, then please join us in studying "innovative therapeutics" and become a leader who positively contributes to the development of future medical treatments.
"Nurture of Creative Research Leaders in Innovative Therapeutics"
Tetsuichiro Saito: Program Coordinator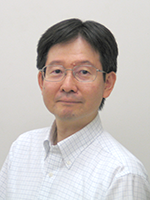 Chiba University School of Medicine has produced many pioneers in medicine and the life sciences. Dr. Komei Nakayama developed surgical techniques for esophageal cancer. Dr. Hikoo Shirakabe invented the double contrast radiography of the stomach. Dr. Tomisaku Kawasaki discovered Kawasaki disease. Dr. Tomio Tada elevated immunology to new heights. In 2012, the Leading Graduate School Program at Chiba University started with the goal of carrying on the tradition to cultivate future global leaders.
Despite many breakthroughs with rapid progress in basic science, it takes years to have those discoveries applied to medical treatments. In the United States, information exchange as well as joint use of laboratory facilities, equipment and materials are commonplace thus allowing for an increased likelihood of practical application of research findings. In contrast, basic research labs in Japanese universities tend to lack collaborations with departments from clinical medicine. This is one of the reasons why Japan relies heavily on imports for medical drugs and equipment--over 20 billion USD annually.
The School of Medicine formulated "The Grand Design for the Future" and has employed a strategy that prioritizes the establishment of "Therapeutics" and research promotion. To this end, we have already shattered the old system in which basic research labs and clinical medicine labs were separated, and have created the new framework that integrates the basic and clinical labs in a coherent system, thereby enabling seamless translation from basic research to clinical application. The schools of Medicine and Pharmaceutical Sciences have composed the Doctor Course in the Graduate School of Medical and Pharmaceutical Sciences for the cross-disciplinary education and cultivation of young researchers in cooperation with other institutions such as RIKEN and the National Institutes for Quantum and Radiological Science and Technology.
This program has over fifty faculty members from many sectors including the (both domestic and international) government, industry and academia to provide closely supervised and comprehensive assistance. To improve leadership skills and abilities, as well as world-class research capabilities, we have developed a variety of educational curricula: laboratory rotations covering from basic research to clinical practice; internships at domestic and foreign enterprises and research institutions; special lectures, which are organized by students and delivered by leaders including Nobel Prize and Pritzker Architecture Prize winners.
In the past four years, fifty students were selected from more than 500 applicants who entered the Graduate School of Medical and Pharmaceutical Sciences, and have been committed to the program. Of those students, seven are from overseas and one-third have non-medical backgrounds. Every year, program participants receive high evaluations from the companies and research institutions they visited. I believe they will soon thrive as leaders in various fields in the world.